DatawareHouse, BI, and Reporting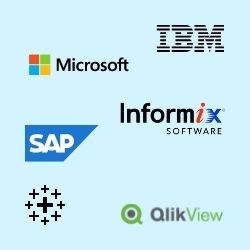 DatawareHouse
Multi-Vendor Development
We work on multiple DW platforms like Informatica, Microsoft SSAS, IBM Data Stage, Informix, SAP BO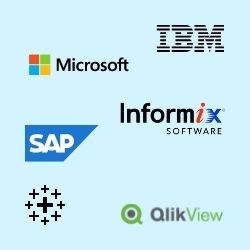 We work on various reporting platforms like Microsoft SSRS, Crystal Reports, Tableau, Qlik View and others.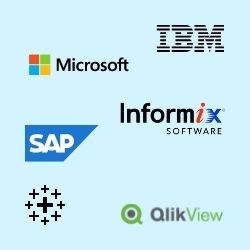 We offer end-to-end services from building Data warehouse to comprehensive reporting and analytical solutions.
Why Data warehouse and Business Intelligence?
Decisions backed by data and analysis is far better than the ones made by intuition. Every organization has pile of data scattered in various systems of the enterprise. The depth of data gathered is the most important input for accurate analysis and which in turn return rewarding results. Our DW and BI practice helps customers achieve that.
Why Data warehouse and Business Intelligence?
We at Camelot Integrated Solutions have delivered wide range of Data warehouse solutions on various platforms. Our specialty is to build Data warehouse solutions that can be scaled or migrated to Big Data on cloud platforms when the Data warehouse solutions outgrow your infrastructure.
Our consultants can work onsite at your office or offsite at our office to design and develop DW and BI solutions for your business needs. We engage with the customer throughout the life cycle of the development. In addition to technical expertise we also provide our clients with knowledge of processes we follow in the maintenance of the DW and BI systems.
Our DW & BI practice offer the following services
DWH, BI, Reporting
Microsoft SSAS, SSIS & SSRS
Implement Dynamics CRM on Microsoft's cloud platform or dedicated hosting or on-premise.

DWH, BI, Reporting
SAP Business Objects
Data Mart and Data warehouse design, ETL processes, Data Services, Crystal Reports and Dashboards. Migration and advanced analytics.

DWH, BI, Reporting
IBM Netezza/IBM Pure Systems
Architecture, Data Modeling, ETL processes, Data Integration, Apps Integration, Reporting and Analytical solutions.

DWH, BI, Reporting
Oracle
Migration to Oracle, Data Modelling, MOLAP, ROLAP design, OWB integration, OBIEE, custom reporting and advanced analytics.
DWH, BI, Reporting
Teradata
Logical, Physical, and Semantic data modeling, Database administration, performance tuning, application development, and support.

DWH, BI, Reporting
Production Support
We offer world-class support for your mission-critical DW, BI, and reporting applications and help reap the returns on investment.